The Easy, Efficient Solution for your Help System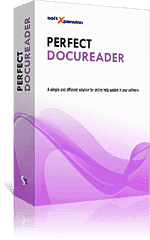 Use PDFs for high-performance help files, software documentation and user manuals. How do you display help files in your software?
Today's software relies on the CHM format. But CHM files are potential vectors for viruses and trojans and are often blocked by security software.
The HTML format requires many separate files (text, images, etc.).
The HLP format was introduced with Windows 3.1 and is no longer state of the art. In addition, the HLP viewer, WinHlp32.exe, is no longer distributed as of Windows Vista.
PDF files are a good solution, but they require a separate reader. The free Adobe® Reader does not enable context-sensitive help and is no longer easy to distribute.
The solution: Use Perfect DocuReader from soft Xpansion! Start the program directly within your application. It's easy:
DocuReader.exe PDF_filename
DocuReader.exe PDF_filename page_number
DocuReader.exe PDF_filename named_destination
Perfect DocuReader Features:
Open and view any PDF file
Display any page on start-up: Send your users directly to the information they need
Use named destinations to display the desired text immediately
Support for links to external PDF files
Navigate using bookmarks, links, and page navigation buttons
Zoom and search
Print
Scenarios for using Perfect PDF® DocuReader:
Case 1: Perfect DocuReader – Freeware Version
Usage of Perfect DocuReader is free of charge, as as long as it is not part of a commercial software product. For example, you can use the program within your own company, distribute it with separate documentation or with a freeware program.
Case 2: Perfect DocuReader – Commercial Use
If you use Perfect DocuReader as a part of one or more commercial software products, the royalty-free license fee is €59.00, incl. VAT. You will receive a version licensed especially for your company. The name of your company will be displayed on the splash screen.
Price: €59.99*BUY ONLINE
*Price contains 19% VAT (VAT rate in Germany) where applicable
Case 3: Perfect DocuReader – Customized for your Company
The free and commercial versions of Perfect DocuReaderopen with a splash screen and display the soft Xpansion logo in the toolbar. You can obtain your "own" version featuring your own logo and splash screen (or none at all). Clicking the logo will open the About dialog, which will contain your logo, name and the web address of your company. Other customization possibilities are also available – just contact us!
Perfect DocuReader is powered by the current version of our PDF Xpansion technology, which also powers our other PDF products, as well as those of many other software developers. Optimal for daily work with your documents. Are you using PDFs for private or business documentation? Are you looking for more options or the ability to edit your PDFs?
Try our PDF Xpansion SDK! The SDK includes the PDF Viewer functionality, which makes it easy to integrate PDF viewing into your applications. The library provides a complete PDF viewer in a prefab dialogue window and offers multiple options and settings.