Thank you for your interest in Perfect PDF® solutions
Perfect PDF® 10 Premium
Upgrade for only 29.99 €
The Perfect PDF® 9 Editor offers various functions but as its name says, its core function is to edit PDF documents. If you are in need of an all-in-one solution to process PDF documents, Perfect PDF® 10 Premium is the right choice. For only 19.99 € you can upgrade your free Perfect PDF® Editor to the recent Version of Perfect PDF Premium. Additional, useful features included in Perfect PDF® 10 are the conversion of nearly all types of electronic documents into the PDF or PDF/A format, merging of PDF documents and an OCR module to recognize text in scanned images/PDF files. Moreover there are some new features in Version 10 of Perfect PDF like a language switching (English, German, French, Italian), advanced Office 2016 support, a new PDF engine (PDF SDK version 12) as well as improved performance for rendering and display of PDF documents. For more information, visit the corresponding page. Regular Price is 49.99 €.
Additional Features
+
PDF printer: quickly create PDF or PDF/A (PDF/A-1, PDF/A-2, PDF/A-3) files in any application that allows printing
+
Direct PDF creation via Perfect PDF® 10 integration with an additional toolbar into Microsoft Office and OpenOffice.org applications
+
Import a rich set of meta data from Microsoft Office documents into the PDF file: links, tables of content, bookmarks, form fields, comments
+
Batch processing: conveniently merge multiple non-PDF files in one PDF or in separate PDFs, recognize text in PDF or image files
+
Merge various print jobs in one document
+
OCR feature: recognition, search and export of text
+
Language switching between four language versions in the installed program (English, German, French, Italian)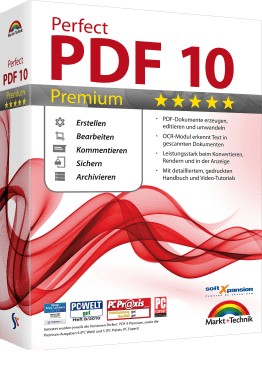 Need more information?
Screenshots Perfect PDF® 10 Premium