PDF Server for High-Volume Document Traffic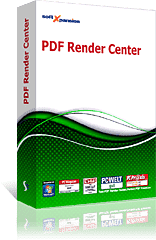 PDF Render Center (PDF RC, version 8) enables you to convert documents with batch jobs and process PDF files. It can also be easily integrated into existing document management systems. PDF Render Center is perfect for small- and midsize businesses that want to minimize the use of paper while automatically managing thousands of documents. It allows more efficient processing of a greater number of documents while reducing or even eliminating the costs of copying and archiving.
PDF RC converts all your mission-critical documents, as well as data from electronic sources, into PDF documents and/or images. The newly created PDFs are then available on the back-end and can be administered in your database as well as in document management and content management systems. The files can be systematically organized, archived, password-protected and transmitted with PDF RC. In addition, you can define and optimize an enterprise-wide document workflow.
Features Overview:
PDF Render Center converts:
All data formats that can be printed from any program (must be installed on a server)
Text files (ANSI and Unicode) and RTF files (rich text format)
HTML files or websites
Raster images (JPEG, TIFF, etc.)
PDF documents or pages
Microsoft Office files incl. import of MS Office metadata, such as links, tables of contents (TOC), form fields and control elements, as well as comments, from Word, Excel and PowerPoint documents
PDF Render Center exports files as: PDF, PDF/A, text (ANSI or Unicode) or images (JPEG, TIFF, etc.), incl. multi-page TIFF files
PDF Render Center offers several communication possibilities between the end-user and PDF RC on a network (Internet Explorer, Outlook, etc.). All versions are based on standard software.
Many methods for exporting documents from PDF RC to end-users: Copy to a folder, send as an attachment, etc.
Flexible and transparent licensing and pricing models mean you pay only for the features you need
You'll find the complete list of supported PDF properties in our
guide to the PDF Xpansion SDK
.
If you purchase PDF Render Center, soft Xpansion will create the required PDF RC server configuration for you or support you if you prefer to configure it yourself – at no additional charge.