EU-compliant invoicing & extract invoice data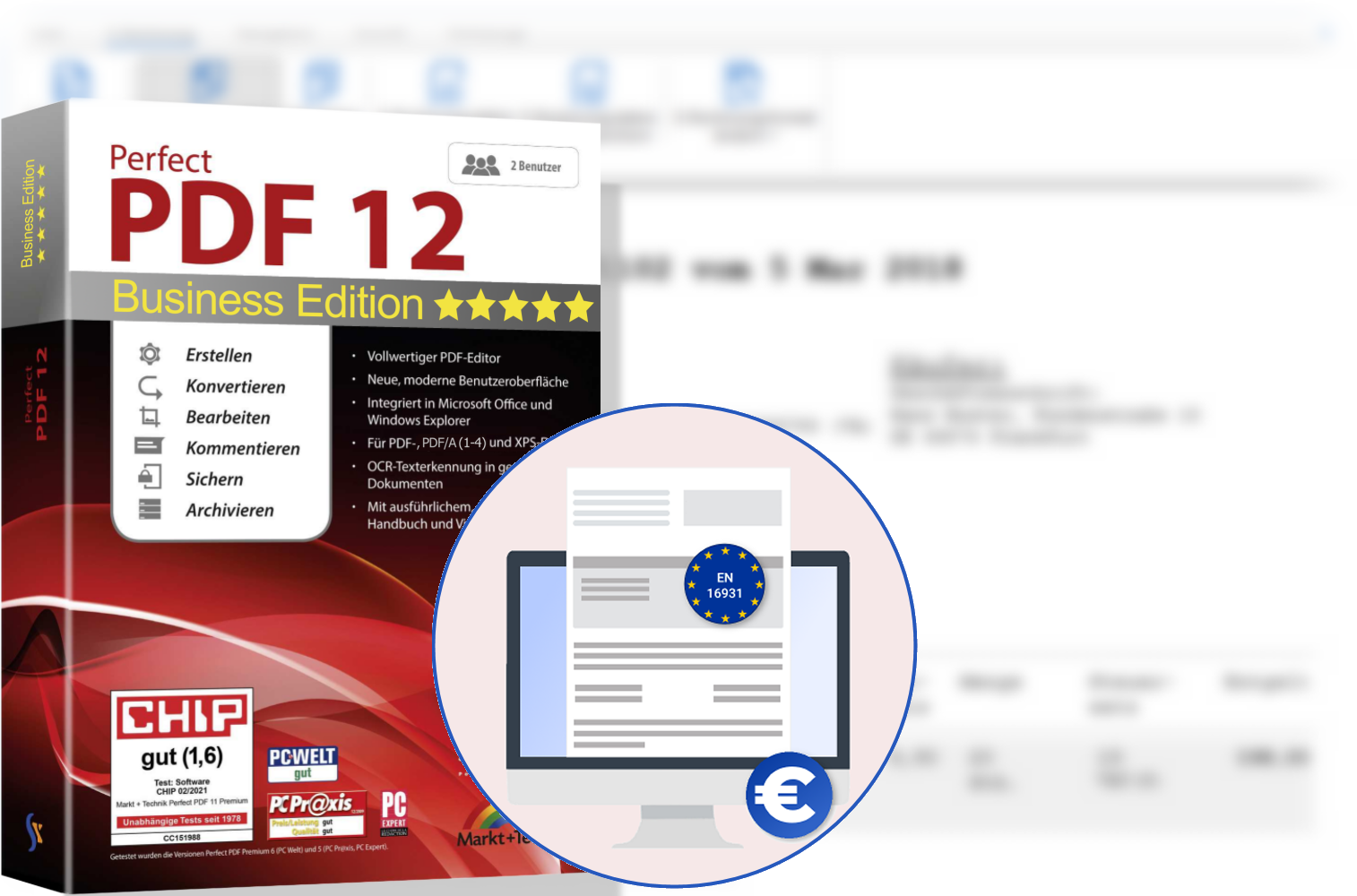 XRechnung 3.0
Based on the EU standard EN 16931 and is the German invoice standard for the public sector. Such invoices are XML files without visual representation.
Perfect PDF® 12 enables embedding in a PDF/A-3 file in ZUGFeRD format based on an XML file that has already been created, thus enabling conversion between different XRechnung formats.
ZUGFeRD including version 2.2
Since ZUGFeRD 2.1.1, the "XRechnung" profile is also supported, i.e. a total of 6 profiles are supported for this standard. ZUGFeRD from version 2.0 is "fully compliant" in terms of the European standard EN 16931-1.
Perfect PDF® 12 supports all five (from ZUGFeRD 2.2) or three (before ZUGFeRD version 2.2) defined profiles.
Factur-X
The French invoice standard conforms to EN 16931-1 and is technically identical to ZUGFeRD from version 2.0.
Perfect PDF® 12 supports all five profiles: EXTENDED, EN 16931, BASIC, BASIC WL and MINIMUM.
The E-Invoicing obligation in Germany is coming!
Legal basis: Growth Opportunities Act
Status: Legislative process still at the draft stage, i.e. changes to the content & deadlines mentioned below are possible, associations have submitted comments, readings in the Bundesrat have already taken place.
Topic: E-Invoicing will only be mandatory between companies (B2B), exceptions to the obligation and transition periods provided for
Publication of legal act: December 2023
Date of entry into force (in the area of electronic invoicing): 1.1.2025
Basic definition: From 2025, E-Invoices within the meaning of the law are only those that comply with EU standard EN 16931.
E-Invoice functionality in Perfect PDF® 12
Perfect PDF® 12 currently offers this functionality for processing electronic invoice formats:
Load and view XML invoice
Read ZUGFeRD files (PDF/A-3), display, extract, delete XML part
Create ZUGFeRD files from existing simple PDFs and existing XRechnung invoices, including conversion to PDF/A-3
Add, open, save and delete attachments to E-Invoices
Display XRechnung data in two forms: as a PDF file ("in a human-readable form", with a template prepared in the program) or as pure XML data ("in machine-readable form")
Print invoice data or save as PDF
Convert E-Invoice data to another format (another standard)
Information sources (English)
FeRD – electronic Invoicing in Germany
Factur-X EN – fnfe-mpe.org
European Standard for E-Invoicing (Single Market Economy)
Information sources (German)
Startseite (e-rechnung-bund.de)
XRechnung – XStandards Einkauf (xeinkauf.de)
What is ZUGFeRD | Forum elektronische Rechnung Deutschland (ferd-net.de)
Draft Growth Opportunities Act, topic of e-invoicing anchored in VAT regulations (section "Important printed matter", see Articles 29 and 30): DIP – Gesetz zur Stärkung von Wachstumschancen, Investitionen und Innovation sowie Steuervereinfachung und Steuerfairness (Wachstumschancengesetz) (bundestag.de)