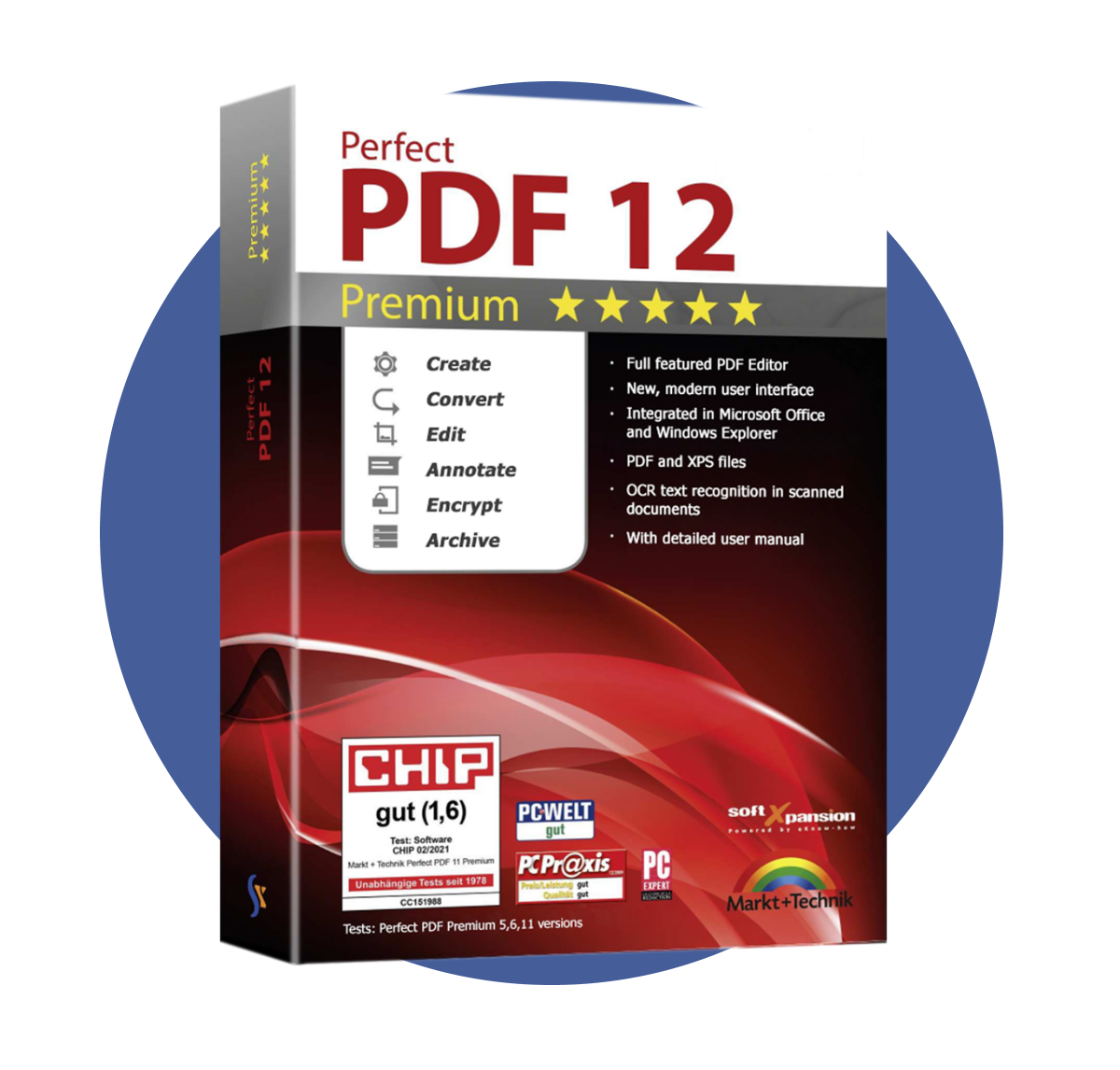 Available in:


Perfect PDF® is a registered trademark of soft Xpansion.
Perfect PDF® 12
Powerful, modern & efficient
Perfect PDF® 12 is a powerful and multifunctional PDF tool for processing PDF files. The user interface has been completely redesigned and is based on the design of Microsoft Office. In addition to the new design, complete editions (Office, Premium or Business Edition) or only selected features can be purchased.
Subscription
Lifetime License
Purchase Product
Read more about Functionality
German Data Sheet
Tutorials Perfect PDF 12 celebrates its 1-year anniversary!
As a birthday present, the price of Perfect PDF 12 Premium has been permanently reduced by 37%. In addition, with every purchase of Perfect PDF 12 Premium, the use on two additional devices is free.
Try and buy Perfect PDF® 12
Free Version
Several Editions
Small Packages
Single Features
For Interested.
Free reader or trial version
Use Perfect PDF® 12 with Premium functionality for 14 days (with demo watermark) or indefinitely as free PDF Reader.
Premium & other editions

Selected functionality with optimal price – purchase Perfect PDF® 12 edition. Discounts starting from 2 licenses! For newcomers & advanced.
Configure functionality

Create Perfect PDF® 12 according to your needs and wishes. Select and pay only for features you really need. For advanced users.
For Customers.
Upgrade
Version 11
Version 10
Older versions
Please enter your product key of Perfect PDF 11 Premium. You will then be redirected to purchase.
Please enter your product key of Perfect PDF 10 Premium. You will then be redirected to purchase.
Extend functionality
Fast & uncomplicated
You have already purchased one or more licenses of Perfect PDF® and want to extend the functionality of your license(s)?
To your account
Manage Subscription
Subscription settings
You have already purchased one or more licenses of Perfect PDF® and want to change your subscription settings?
Manage subscription
For Companies.
Larger Quantities
Buy larger quantities of Perfect PDF® 12 and benefit from a great discount from 30% to 90%.
Go to quantity discount
Multi-user license for server & local network
Companies can use Perfect PDF® 12 with multi-workstation license service (also for Remote Desktop Services).
Perfect PDF® 12 typical applications
All features at a glance
Create.
| | |
| --- | --- |
| | Create PDFs with virtual printer from text, images, HTML files, from Outlook mails and objects and create PDFs from Word, Excel, PowerPoint files. |
Convert.
| | |
| --- | --- |
| | For archiving PDF files use conversion to PDF/A-1, 2, 3, 4, convert between PDF and XPS format. |
Edit.
| | |
| --- | --- |
| | Edit existing PDFs with the content editor, cut, copy, paste & delete texts & geometric shapes. Edit images with the image editor. |
Manage.
| | |
| --- | --- |
| | Use or edit predefined layouts, merge & split PDFs, page design (letterheads, backgrounds, headers/footers, watermarks). |
Design Layouts.
| | |
| --- | --- |
| | The Perfect Print feature provides a wide range of layout design program functions for creating and editing print layouts. Perfect Print allows digital documents from different source applications to be output and optimized in PDF and on paper, with standardization of the output (layout, footnotes, watermarks, etc.) regardless of the printing capabilities of the respective source application. |
Electronic Invoices.
| | |
| --- | --- |
| | Perfect PDF® 12 offers a wide range of functions for processing electronic invoices in ZUGFeRD, XRechnung and Factur-X format. For example, the program can be used to create ZUGFeRD files, display electronic invoices and convert XRechnung files. |
Optimize.
| | |
| --- | --- |
| | Optimize PDFs, optional visible layer management, change color space and compression of included images, replace non-embedded fonts. |
Design.
| | |
| --- | --- |
| | Form field designer, create, design and edit PDF forms, add text and combo boxes, radio buttons and lists. |
Annotate.
| | |
| --- | --- |
| | Comments, stamps, notes and marks, media comments, redactions, free text, sticky notes, stamp and watermark comments. |
Sign.
| | |
| --- | --- |
| | Including PAdES signatures (B-, T-, LT- and LTA-level) in PDF files with certificates (Windows storage/ PFX files), timestamp and certification level. |
Why select Perfect PDF® 12?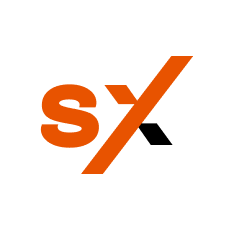 Over 25 years of experience in software development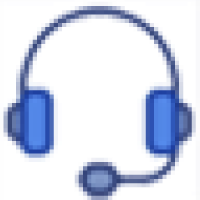 Free & fast support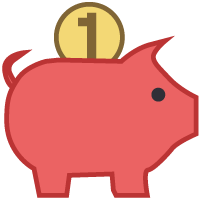 Only pay for functions you need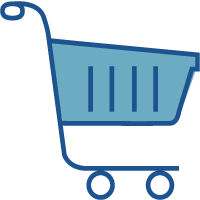 Purchase as subscription or one-time license fee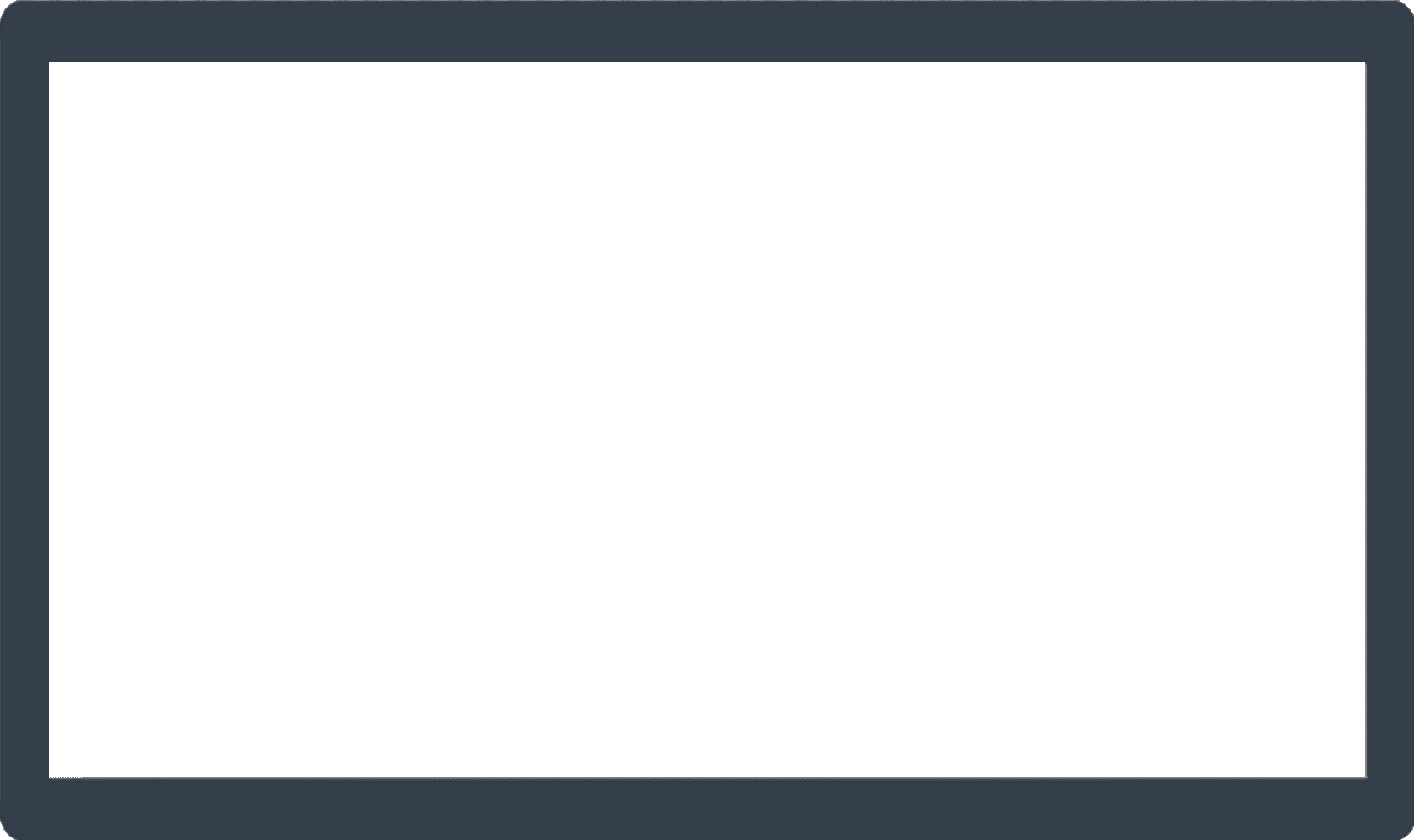 Convince yourself!
In addition to the new, slim design, a lot of emphasis was placed on userbility. The interface is intuitive and quickly accessible. Thus, all functions can be reached with just a few clicks. Perfect PDF® 12 was developed with the latest version of PDF Engine PDF Xpansion SDK.
Try now!
X
Volume discount – request to soft Xpansion
Please first confirm the processing of your data in order to fill out the contact form. Alternatively, you can send a request directly to support@soft-xpansion.com.
I agree to the processing of my personal data according to the GDPR