Perfect Print 12
Design letterheads, posters, brochures, flyers and much more
Perfect Print 12 combines a wide range of features for creating the print layout of flyers, posters, letterheads and custom templates in one powerful program. Perfect Print 12 is part of the Perfect PDF® 12 product family..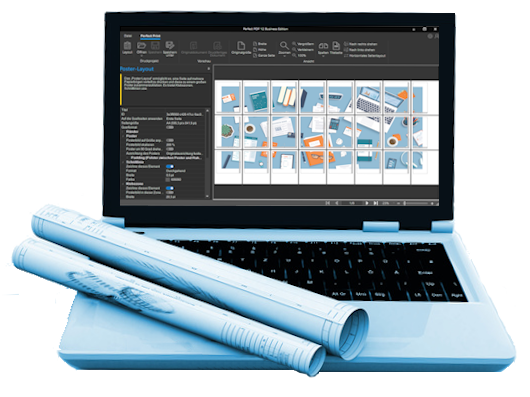 Try Perfect Print
A 2 weeks free trial version of Perfect PDF® 12 can be found in the soft Xpansion account under "Perfect PDF 12" (after successful registration of a customer account). Any Perfect Print features are included in the offered trial version.
Purchase Perfect Print
If you already own Perfect PDF® 12, your key can be upgraded with this functionality. To do so, use the upgrade option in the account. Perfect Print can also be purchased as a single feature. It is available as an annual subscription or as a one-time license fee.
Print Layout Designer
Design templates for your print project
Unify files and documents from different programs: Perfect Print allows the output and optimization of digital documents from different source applications in PDF and on paper, with a standardization of the output (layout, footnotes, watermarks, etc.) regardless of the printing capabilities of the respective source application.
Predefined layout types
In addition to custom designs, such as your corporate design layout, the print layout program provides templates for brochures, flyers, eBooks and grids.

Edition of existing layouts
Layout settings such as margins, number of pages per sheet, background, child elements, placeholders & much more can be conveniently changed with a mouse click.

Hierarchical structures
The use of hierarchical structures ( parent and child elements) allows easy handling, exact positioning as well as perfect structuring of the template.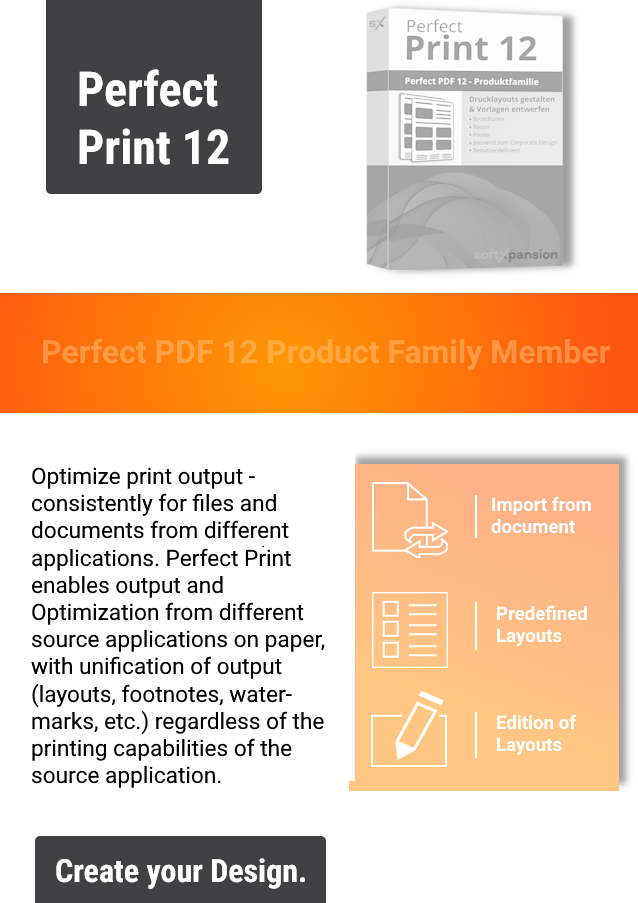 The most important features at a glance
Redesign pages
Selection from several layout types
Design and apply documents using templates
Create placeholders and child elements
Use lines, images, rectangles for design
Change document & page properties bundled
Print multiple pages on a single sheet
Create greeting cards, invitations, etc.
Edit images
Print long tables on a single page
Perfect PDF 12 family features
Try Feature
Perfect Print – typical cases of use
Multiple pages on a single sheet