Edit PDF Documents – an Easy Matter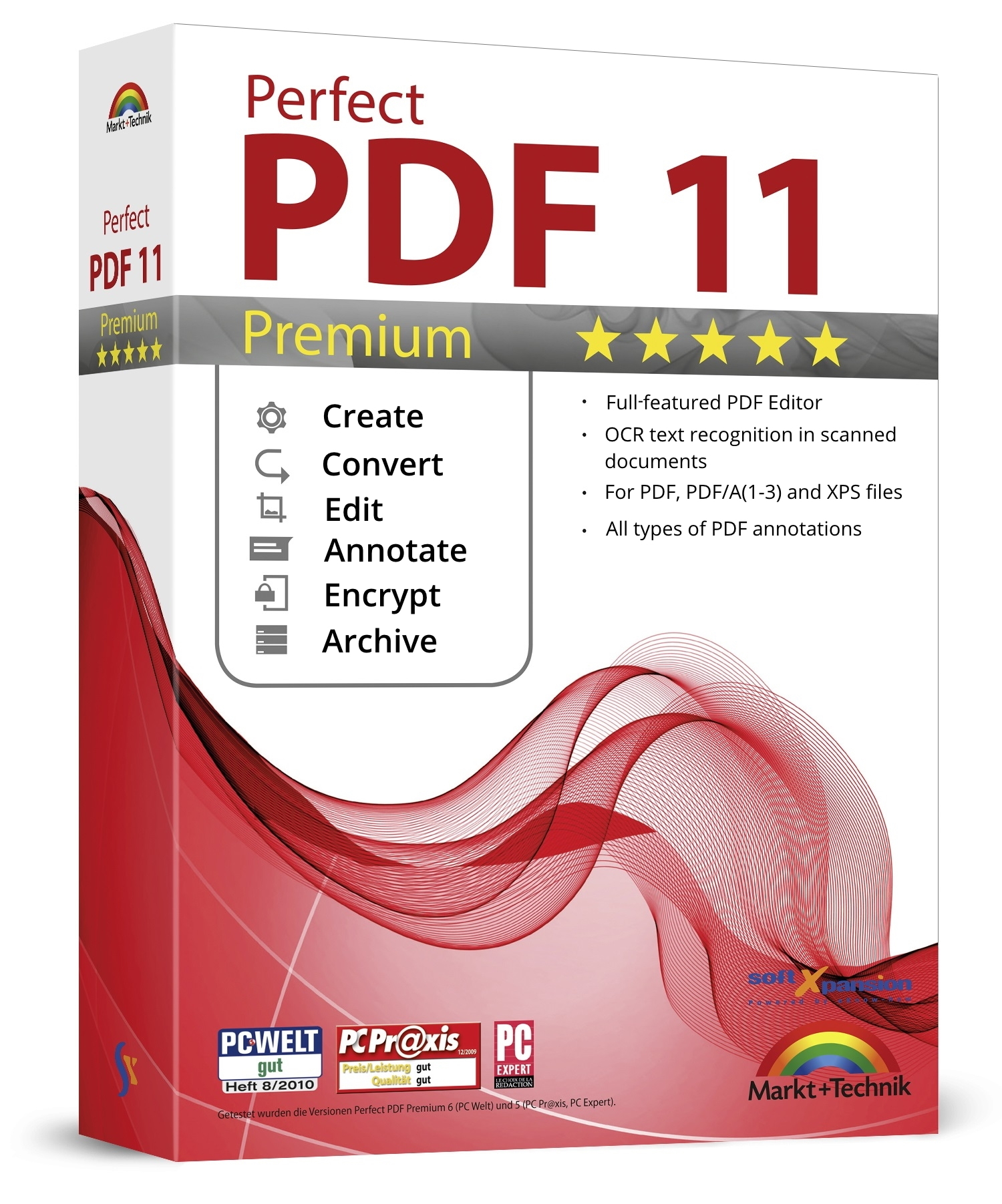 The core functions of Perfect PDF® Premium, for example the PDF creation in each program with print functionality, the integration into common Microsoft applications and editing of existing PDF documents are still available – but much more powerful than ever. The program offers the integration into Windows Explorer, Microsoft Office (Word, Excel, PowerPoint, Outlook, Visio und Project), and OpenOffice.org (Writer, Calc, Impress, Draw, Base, Math). It is possible to create a PDF file from within these applications with only one click. The language switching permits to select from four languages (German, English, French and Italian). Perfect PDF® 11 Premium allows timesaving PDF creation, in the office or at home, and is a good solution for PDF beginners and for professional users alike.
One license can be used for 3 activations
Support for Microsoft Office 2019
Perfect PDF® is a registered trademark of soft Xpansion
PDF printer: create PDF or PDF/A files in each application that offers printing features
Create PDF files with a powerful PDF editor
Merge and split PDF files
Merge various print jobs in one document
Conversion of text, RTF, XPS or image files or from scanned images into PDF files
Create completely new PDF files
Create PDF/A-1, PDF/A-2, PDF/A-3
Create PDF/A documents based on PDF/A profiles automatically
Direct import from TWAIN-compliant scanners and webcams
PDF portfolio: create and modify, import from layout template files (NAV format)
Use a Diversity of Possibilities
Compare PDF files, replace texts
Page editor to create new pages or to edit existing contents
Special image editor to edit images directly in PDFs
Insert texts, images and geometric forms
Use predefined layouts or edit them
Image processing for images in PDF files with special tools to change and optimize
Batch processing
Design electronical documents before printing: use objects from galleries for clipart and forms or adjust objects (turn, resize, move) like in Microsoft Word
Change the structure of PDF documents (move pages, delete, turn, change size)
Cut page content and adjust the opacity for texts and graphics
Comments, Forms, Digital Signatures
Various types of annotations: comments, stamps, notes, markups, media comments
Create interactive PDF forms: insert, align and arrange fields
Commands to create, to modify , to play media and to create 3D scenarios as comments
Sign digitally and certify PDFs
Convert various Formats
Extract text and images, export pages as images
Import of meta data like links, form fields, bookmarks, comments
Send a PDF as email directly
Convert from PDF to PDF/A-1 PDF/A-2, PDF/A-3
Create PDF files on a virtual printer from within each application with printing functionality
Create PDF files with just one click
Microsoft Office (Word, Excel, PowerPoint, Outlook), Visio and Project
OpenOffice.org
Windows Explorer
SharePoint connection
Import meta data from the source document: existing links, tables of contents, form fields, comments and even the keyword indexes
Use more tools to work with your PDF
Text search and advanced search in folders, embedded PDF files, bookmarks or comments
OCR Text recognition (Add-In, Tesseract Enginge)
Comments, water marks, interactive PDF forms, digital signatures
Snapshot, measurement and selection tools, magnifier
Advanced printer functionality
Additional 64-bit version
Supports JavaScript

Perfect PDF® 11 Premium was developed using the PDF Xpansion SDK.
What do our customers say about Perfect PDF 11 Premium?
13.02.2022
5
Perfect PDF 11 bietet alles, was man zum Erstellen eines PDF Dokumentes braucht und der Umgang ist leicht erlernbar. Formulare komplett selbst zu erstellen, macht zudem sehr viel Spaß. 🙂
Gaby
31.12.2021
3
Bis jetzt kann ich nur drei Sterne vergeben- finde den Lizenzschlüssel nicht-oder wird dieser zugesand
Kurt
You also want to share your experience with the product?
Write a review
.
Discounted upgrades are also available for the latest version (Perfect PDF 12)!
Buy Now

Select one of the packages listed below. Once your order has been successfully completed, you will receive an email with the download link and the product key for activation. One license allows you to activate the software on 3 computers. The price is only valid in our Online Shop!

License Package
Customized
from 1 License
from 39.99 €
from 19.99 €

License Package
Family
3 Licenses
99 €
49.50 €
+ Free Express Support*
*Guaranteed response to support requests within 48 hours, except on weekends or legal holidays.










In Stock