Genealogy – with the Family Tree Explorer!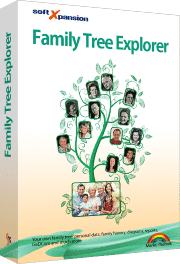 Family Tree Explorer is a powerful program for computer-based genealogy, permitting you the structured documentation of your family history. It is your professional companion for gathering information and presenting it. Manage any desired amount of people in Family Tree Explorer – the relationship between the family members is displayed easily. Add images, audio and video files, scanned documents, family crests and annotations for more lively presentations!
Print your family trees with professionally designed background graphics, create lists of people (family members or witnesses) or ancestors and descendants diagrams. The efficient search function with many parameters enables you to find a person with all detailed information in the family tree database very easily.
Find a complete list of all features below.
• Import and export data from/to other genealogy programs via the GeDCom format
• Add numerous events for the family members plus annotations, media files, sources and witnesses data
• Present your research results in various reports, diagrams and illustrated family tree graphics
• Coherence and plausibility check for data like dates for birth, death or marriage
• Powerful search function helps you to find people quickly even in large families
• Automatic update function (requires access to the internet)
• Extensive program guide

[br]
Single-user license 19.99 €
Screenshots:
More features included in our Premium Edition.[br] System requirements:
Windows compatible computer
600 MB HDD
Minimum resolution: 1024 x 768
Operating system: Windows 10 / 8.1 / 8.0 / 7
Requires a product activation
[br] Copyright German Edition by United Soft Media Verlag
Viewer, Standard and Premium Edition: Differences
Note:
The Viewer is a program that owners of the Premium edition may distribute for free. It can be used to display the family data created with the Premium and Standard editions.