Merge Documents simply!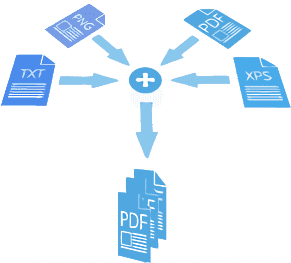 This task has become a part of everyday life: you have several electronic documents, and you want to combine PDF or other documents in one . The individual documents should have a certain order in the overall document. With the right Perfect PDF programs you can do just that with only a few mouse clicks: Documents with file formats such as PDF, XPS, text, images and in various page layouts (portrait, landscape format) can be combined and saved as one PDF document. You also keep links, form fields, and layout.
The following PDF programs will provide these functions:
Windows Store Apps for Windows 10
Perfect PDF Combine: PDF, XPS, merge, and share image files
Perfect PDF Ultimate: the complete package for the processing of PDF and XPS files  (contains the functions of the Combine and Editor apps plus more features)
Desktop Programs for Windows 7, Windows 8.x, Windows 10
Perfect PDF 10 Premium: comprehensive PDF / XPS all-in-one solution. Create PDF and XPS, combine (several complete files at once & insert pages into open PDF file), convert, edit, OCR text recognition, design, comment
Perfect PDF 9 Editor: PDF editing program – create PDF and XPS, convert, edit, combine (by inserting pages in open PDF file) design, or comment
Perfect PDF & Print 10 : product suite for creating, editing and managing PDFs and other electronic documents for home and small- to mid-sized business users
Merge, Combine and Split Complete Documents With Just a Few Clicks
Any documents: open PDF, XPS, text and image files, click "Merge" – done. The desired sequence in the target document can be easily changed after selecting the documents.
Several Options Can be Adjusted:
Document Layout
Text Options: font, encoding
Image resolution (DPI)
References (links), outline, form fields with copy in the resulting file
Do You Want to Split Large PDF Documents?
Even splitting into several small, separate PDFs is no problem! You can export individual pages as well as a PDF document or split any range of pages into several documents with any number of pages. In the Perfect PDF Ultimate app simply go to "Tools / Export / Extract Pages" or "Split Document".