Edit PDF Documents – an Easy Matter
New Features: language switching, advanced Office 2016 support, new PDF engine, further improved performance
Description|Features|Reviews|Buy now|Editions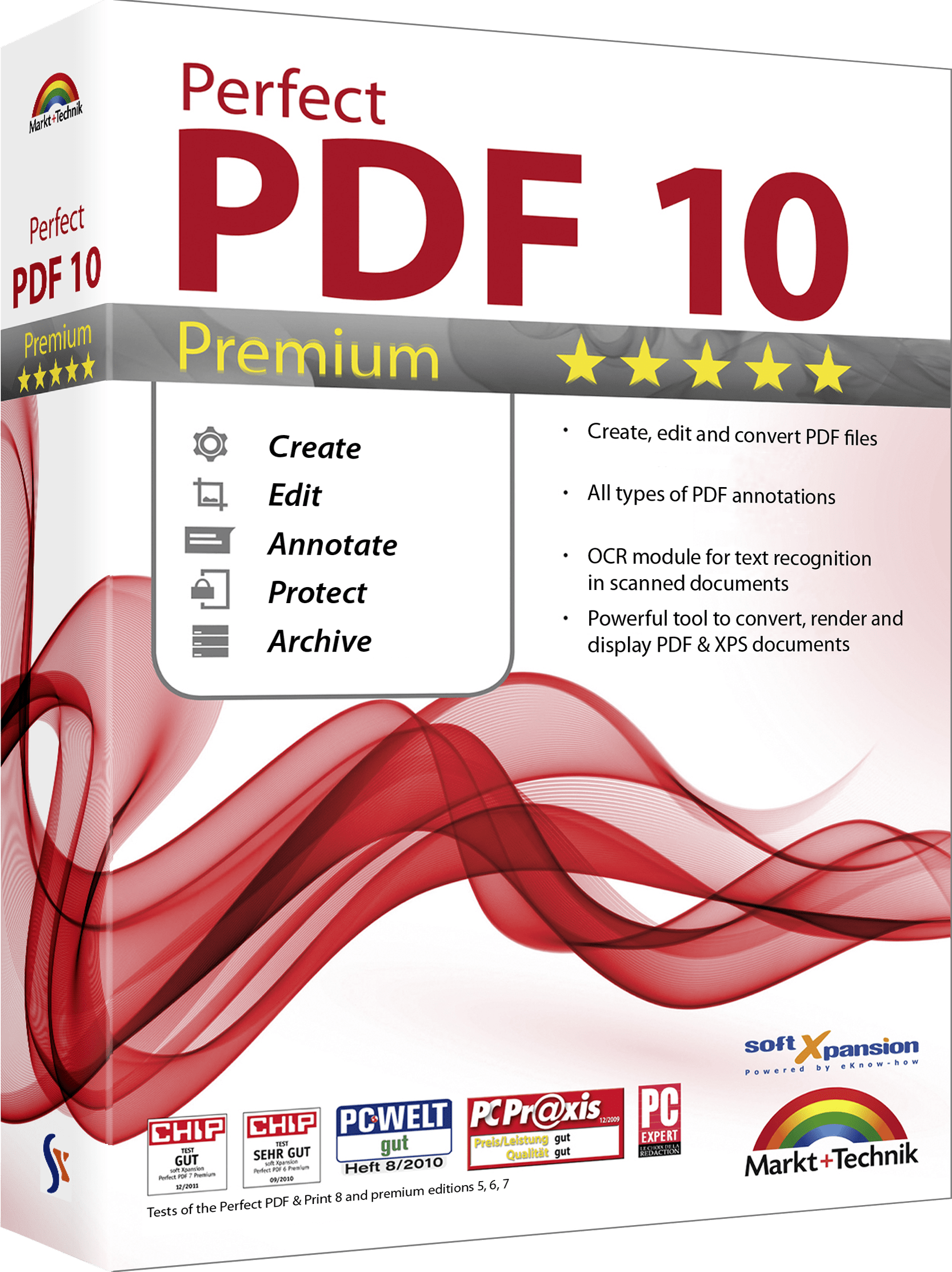 The core functions of Perfect PDF® Premium, for example the PDF creation in each program with print functionality, the integration into common Microsoft applications and editing of existing PDF documents are still available – but much more powerful than ever. The program offers the integration into Windows Explorer, Microsoft Office (Word, Excel, PowerPoint, Outlook, Visio und Project), and OpenOffice.org (Writer, Calc, Impress, Draw, Base, Math). It is possible to create a PDF file from within these applications with only one click. The language switching permits to select from four languages (German, English, French and Italian). Perfect PDF® 10 Premium allows timesaving PDF creation, in the office or at home, and is a good solution for PDF beginners and for professional users alike. Further functions are the creation, editing and management of PDF files and other electronic documents for home and small- to mid-size business users. Furthermore, it is possible to edit existing PDF documents and protect them, merge, design documents, create complex forms, sign PDFs, recognize text in scanned images with OCR and make use of various special PDF features and properties. A viewer for PDF or XPS files is also included. The Integration into common Windows applications and additional tools for managing your electronic documents make this solution much more than just a PDF or printing program.
★★★★☆

based on

10

reviews
The Perfect PDF® 10 Premium was developed using the PDF Xpansion SDK. Discover our other product editions.
Functions at a Glance
Language switching (English, German, French, Italian)
Advanced Office 2016 support
New PDF engine (PDF SDK version 12)
Improved Performance for rendering and display of PDF documents
PDF printer: create PDF or PDF/A files in each application that offers printing features
Create PDF files with a powerful PDF editor
Merge and split PDF files
Merge various print jobs in one document
Conversion of text, RTF, XPS or image files or from scanned images into PDF files
Create completely new PDF files
Create PDF/A-1, PDF/A-2, PDF/A-3
Create PDF/A documents based on PDF/A profiles automatically
Direct import from TWAIN-compliant scanners and webcams
PDF portfolio: create and modify, import from  layout template files (NAV format)
Use a Diversity of Possibilities
Compare PDF files, replace texts
Page editor to create new pages or to edit existing contents
Special image editor to edit images directly in PDFs
Insert texts, images and geometric forms
Use predefined layouts or edit them
Image processing for images in PDF files with special tools to change and optimize
Batch processing
Design electronical documents before printing: use objects from galleries for clipart and forms or adjust objects (turn, resize, move) like in Microsoft Word
Change the structure of PDF documents (move pages, delete, turn, change size)
Cut page content and adjust the opacity for texts and graphics
Comments, Forms, Digital Signatures
Various types of annotations: comments, stamps, notes, markups, media comments
Create interactive PDF forms: insert, align and arrange fields
Commands to create, to modify , to play media and to create 3D scenarios as comments
Sign digitally and certify PDFs 
Convert various Formats
Extract text and images, export pages as images
Import of meta data like links, form fields, bookmarks, comments
Send a PDF as email directly
Convert from PDF to PDF/A-1 PDF/A-2, PDF/A-3
Create PDF files on a virtual printer from within each application with printing functionality
Create PDF files with just one click
Microsoft Office (Word, Excel, PowerPoint, Outlook), Visio and Project
OpenOffice.org
Windows Explorer
SharePoint connection
Import meta data from the source document: existing links, tables of contents, form fields, comments and even the keyword indexes
Use more tools to work with your PDF
Text search and advanced search in folders, embedded PDF files, bookmarks or comments
Text recognition (OCR)
Comments, water marks, interactive PDF forms, digital signatures
Snapshot, measurement and selection tools, magnifier
Advanced printer functionality
Additional 64-bit version
Supports JavaScript
Rate our product!
By submitting your message, you agree with the processing of your data (first name & review text) and its publication, e.g. on our website. General questions on our privacy policy?
Buy Now

Please choose a license package and after completing your order, you will receive an email with a download link and your product key for activation. You can download and activate your product immediately or later. The Prices are only valid in our Online Shop!

License Package
Customized
from 1 License
from 49.99 €

License Package
Family
3 Licenses
99 €

License Package
Office
10 Licenses
299 €

License Package
Company
from 10 Licenses
on request
With the purchase of the license package family you get 3 licenses for the price of 2!
Do You Have a Previous Version? Upgrade Now!
Upgrade #1: 19.99 €*
Perfect PDF® 9 Premium
Perfect PDF®& Print 8
Upgrade #2: 29.99 €*
Perfect PDF® 8 Premium
Perfect Print 8 Professional
Perfect PDF® 9 Editor










In Stock
Local Network License
Use the product simultaneously on multiple workstations with a centralized activation and license management To use this type of license, the LNL service must be installed and running on the server or another computer on your local network. Go to Local Network License …
Find the appropriate version:
We offer various product variations in order that you can find your desired version:
Check which Program edition fits to your needs!