Edit PDF Documents – an Easy Matter
New Features: language switching, advanced Office 2016 support, new PDF engine, further improved performance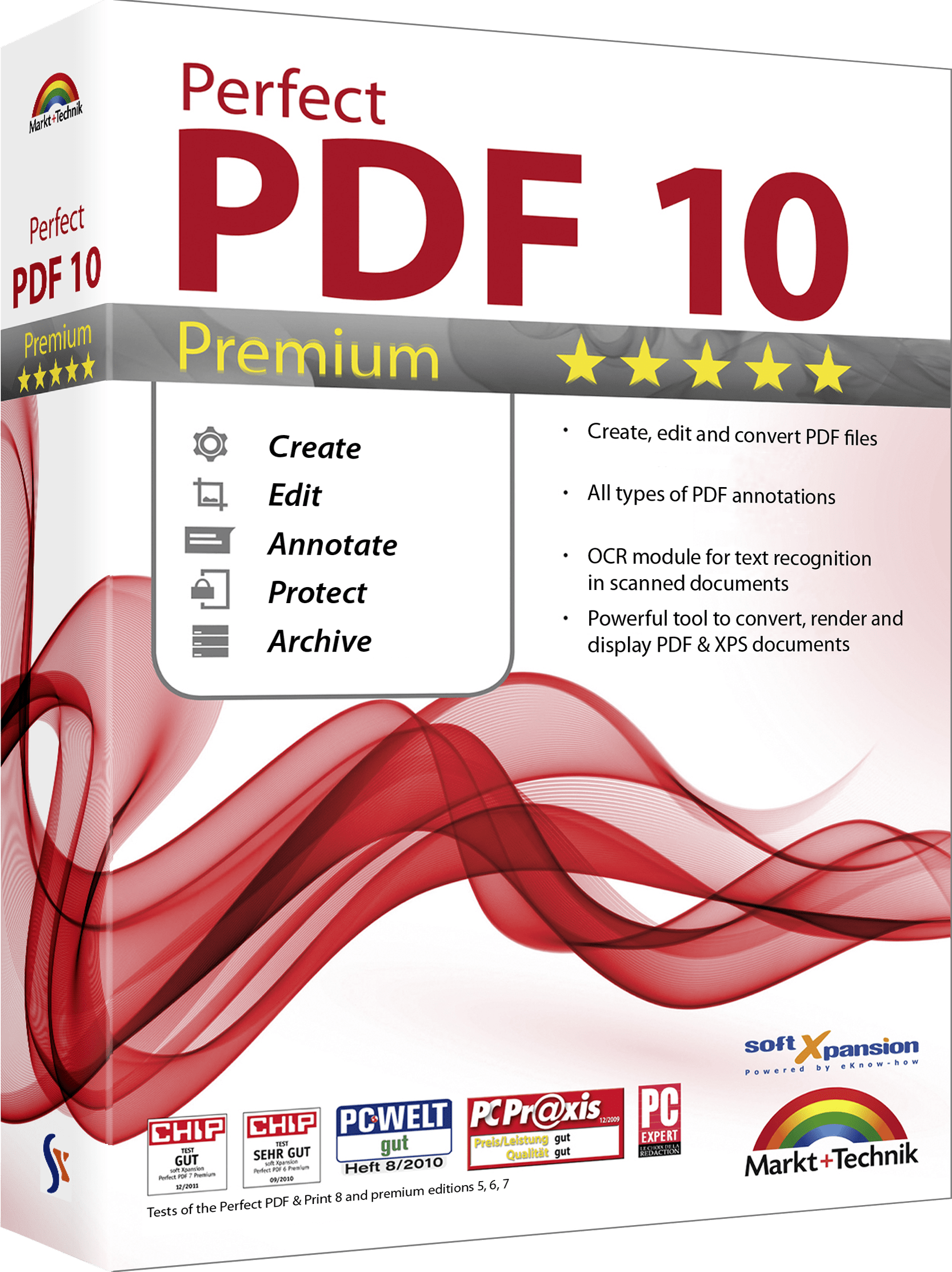 The core functions of Perfect PDF® Premium, for example the PDF creation in each program with print functionality, the integration into common Microsoft applications and editing of existing PDF documents are still available – but much more powerful than ever. The program offers the integration into Windows Explorer, Microsoft Office (Word, Excel, PowerPoint, Outlook, Visio und Project), and OpenOffice.org (Writer, Calc, Impress, Draw, Base, Math). It is possible to create a PDF file from within these applications with only one click. The language switching permits to select from four languages (German, English, French and Italian). Perfect PDF® 10 Premium allows timesaving PDF creation, in the office or at home, and is a good solution for PDF beginners and for professional users alike. Further functions are the creation, editing and management of PDF files and other electronic documents for home and small- to mid-size business users. Furthermore, it is possible to edit existing PDF documents and protect them, merge, design documents, create complex forms, sign PDFs, recognize text in scanned images with OCR and make use of various special PDF features and properties. A viewer for PDF or XPS files is also included. The Integration into common Windows applications and additional tools for managing your electronic documents make this solution much more than just a PDF or printing program.
★★★★☆

based on

32

reviews
The Perfect PDF® 10 Premium was developed using the PDF Xpansion SDK. Discover our other product editions.

Buy Now

Please choose a license package and after completing your order, you will receive an email with a download link and your product key for activation. You can download and activate your product immediately or later. The Prices are only valid in our Online Shop!

License Package
Customized
from 1 License
from 39.99 €

License Package
Family
3 Licenses
99 €

License Package
Office
10 Licenses
299 €

License Package
Company
from 10 Licenses
on request
+ Free Express Support*
*Guaranteed response to support requests within 48 hours, except on weekends or legal holidays.
Do You Have a Previous Version? Upgrade Now!
Upgrade #1: 19.99 €*
Perfect PDF® 9 Premium
Perfect PDF®& Print 8
Upgrade #2: 29.99 €*
Perfect PDF® 8 Premium
Perfect Print 8 Professional
Perfect PDF® 9 Editor










In Stock