Centralized, Server-based PDF Conversion and Distribution in your Small / Home Office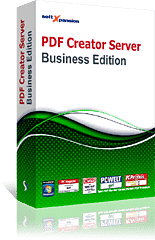 PDF Creator Server is an easy and powerful network solution for the conversion, design and distribution of PDF documents in small networks with up to 5 clients. The Business Edition of the program provides document conversion to PDF and PDF/A including folder watching (automatic conversion of files that have been copied or saved in a certain folder) as well as distribution of created files by copying them into a specified folder, send via e-mail or printing on paper.
Trial version functionality:[br]"PDF Creator Server Business Edition".
Not only the conversion of printable documents to PDF and PDF/A is possible, but also:
automatic document conversion in one or more folders
automatic conversion of Microsoft Office files, text files and images
design of PDF documents with backgrounds, watermarks, stamps, headers and footers
manage users, account and profiles
log and manage events
Some PDF Creator Server screenshots:
You can choose between two products:
PDF Creator Server
PDF Creator Server Business Edition
You may find the functionality list and differences in the PDF Creator Server comparative table. Both products can be easily extended to selected functionality of PDF Render Center.
Buy Download Online

After you have completed your order, you will receive an e-mail with further information about the download and activation procedure.
*) Price inkl. VAT plus shipping costs (shipping costs for retail boxed products only)
PDF Creator Server
99.00€*
Business Edition
149.00€*
Find the right software for your specific requirements
Apart from PDF Render Center, which offers the richest set of functionality, you may choose from two more "smaller" editions with specific functionality and save money: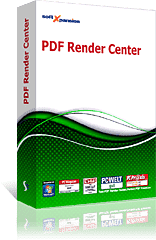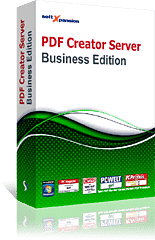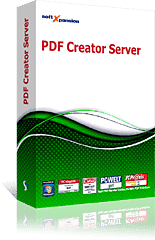 Compare! Too difficult to select due to many functions and too much information? Read more about the product differences here.